VW Transporter T5.1 Exhaust Dual Exit Custom built made from Stainless Steel with TX004 Tailpipes
VW Transporter T5.1 Exhaust Dual Exit Custom built made from Stainless Steel with TX004 Tailpipes
Prices start from £430 for a Middle and Rear with Dual Exit
(Final price will depend on vehicle and tailpipes chosen)
Proflow can build exhaust systems for VW Transporter T4, T5, T5.1, T6 and T6.1 Vans, Call us on 01384 485617 to book in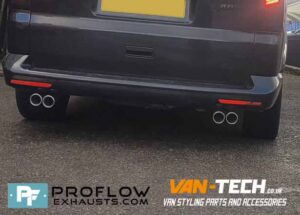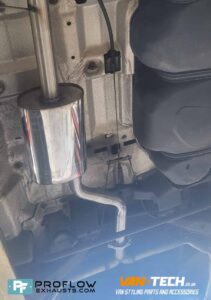 Proflow Exhausts Benefits:
Made from T304 Grade Stainless Steel
 Improved performance
Rust Resistant
Large Choice of Tailpipes
Lifetime Warranty
We sell a huge selection of Stainless Steel Exhaust products directly to the public and trade including a huge selection Tailpipes for most cars and vans.
Proflow Exhausts build and repair exhaust systems for many classic and vintage cars where getting parts for them is no longer an option or very expensive.
Proflow Exhausts 350-351 Brettell Lane, Brierley Hill DY5 3JN
Tel: 01384 485511
Follow Proflow Exhausts on Facebook , Twitter and Instagram

About Van-Tech
Van-Tech Center Court, Halesowen B63 3EB
Tel: 0121 550 4628 Whatsapp: 07506 086535
Email: sales@van-tech.co.uk
Van-Tech Supply and fit parts and accessories for T4, T5,1 , T6  and T6.1 Vans including Side Bars, Roof Rails, Alloy Wheels, Bumpers, Splitters, Curtains, Spoilers, Headlights and much more.
Follow Van-Tech on Facebook, Twitter  and Instagram
Why choose Van-Tech? Well, apart from a vast amount of choice of van accessories right at your fingertips.
At Van-Tech we source the best quality products available from home and abroad many of our side bars are now manufactured in the UK.
Van-Tech offer a fitting service at our purpose built fitting centre located in the West Midlands.