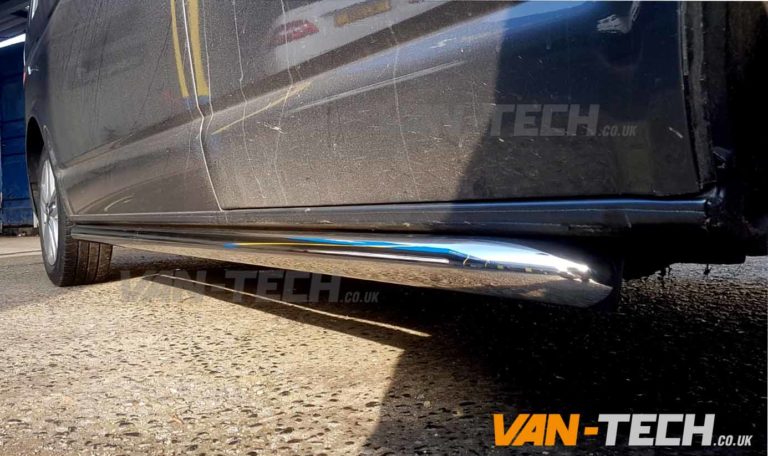 ****Van-Tech 5th Year Anniversary Special offer ****
****Van-Tech 5th Year Anniversary Special offer ****
VW T5 T5.1 T6 Side Bars Sportline Stainless Steel SWB
ONLY £100
This offer price is for collection only by appointment by phone: 0121 550 4628
Van-Tech Center Court, Halesowen B63 3E
(Limited stock, offer valid 23-28th March 2020, 1 per customer)
These bars are made from Stainless Steel so you will not have to worry about the bars rusting in the future.
O.E style curved ends that hug the body of the T5 they look and feel the same as original VW side bars fitted to sport line models, these side bars are not universal fit they are tailor made exclusively for the VW T5 and T5.1 Transporter.
Sold complete with the fitting kit, you won't need to do any drilling as these fit to the existing original fixing sites on the T5 and T5.1 Transporter.
You might see cheaper O.E Sportline style side bars, but when you buy and fit these you'll appreciate the solid quality knowing that you won't have any problems . We think these are a true comparison to any side bars on the market and represent fantastic value.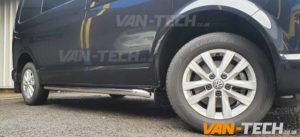 VW T5 T5.1 Side Bars Sportline Product Features:
Stainless Steel O.E Style Side Bars
Fix to existing original fixing points on VW T5 Transporter
No Drilling required
Solid one piece construction for serious strength
SWB Short Wheel Base and LWB Long Wheel Base available
Do not effect using the original jacking points
Willl not rust
If you are not local to us and cannot collect they are still available on our website at the normal price:
VW T5 T5.1 Side Bars Sportline Stainless Steel O.E Style SWB LWB Transporter
About Van-Tech
Van-Tech Supply and fit accessories for VW Transporter T4, T5 and T6 including Side Bars, Roof Rails, Alloy Wheels, Bumpers, Splitters, Curtains, Spoilers, Headlights and much more.
All of our van parts can also be brought from our retail store:
Van-Tech Center Court, Halesowen B63 3EB
Tel: 0121 550 4628 WhatsApp:07534 798213
Follow Van-Tech on Facebook, Twitter  and Instagram
Why choose Van-Tech? Well, apart from a vast amount of choice of van accessories right at your fingertips, we also offer some of the best products available at competitive prices, order them online and have them delivered directly to your home or alternatively you can arrange to have most of our products fitted at one of our fitting centres in the West Midlands.
Van-Tech was established over 5 years ago and we sell a huge range of accessories for Volkswagen Transporter Vans as well as many other makes and models.
At Van-Tech we source the best quality products available from home and abroad many of our side bars are now manufactured in the UK.